All about Castor Oil:
Castor oil is no less than a blessing Mother Nature has bestowed on us. We can find the remedies to nearly all our ailments with the natural ingredients around us. But Castor oil is one such magical potion which has the solution to not one but many problems, be it related to hair, skin or weight. It is none other than Castor oil. If you don't know yet what Castor oil is and what is Castor Oil used for, then spare your time to read this post.
What is Castor oil & How it is Produced?
Castor oil is a golden yellow coloured oil which is extracted by cold pressing the seeds of Castor plant, known as Ricinus Communis. This plant is highly native to Africa and India.


Castor oil is known as 'Arandi Kaa Tel' in Hindi, 'Aamudamu' in Telugu, 'Erandela Tela' in Marathi, 'Amanakku Enney' Castor Oil in Tamil, 'Avanakkenna' in Malayalam, and 'Rerira Tela' in Bengali. It has its own distinctive flavour and a nutty fragrance. The colour of the oil is also heavily dependent on the type of Castor oil chosen.

Different Types of Castor oil (Which One to Buy?)
When you shop for Castor oil, you will find large varieties of this golden coloured oil, namely:
Regular castor oil
Organic castor oil
Jamaican Black castor oil
Difference Between Jamaican Black Castor oil and Other Castor oils?
Jamaican Black Castor oil is best for the hair growth. But Jamaican Black Castor oil is dark in colour as the ash of the castor beans is present in it. So, Jamaican Black Castor oil is not 100% pure. It is a mixture of ash and oil. In all the other respects, these oils are like each other.
You can decide on your own, which one you want to buy. But make sure that the one you buy is free from pesticides and additives. The lighter the colour of the oil is, lesser will be the impurity in the oil.
How is Castor Oil Used?
Castor oil's publicity has been doing a round since quite a long time. It has gained popularity due to its unsurpassed anti-inflammatory and anti-bacterial properties. For this reason, it is used in many cosmetic products, soaps, shampoos, textiles, medicines and even in the oils used in spas. The oil has plenty of benefits for your skin, hair and health. Castor Oil Uses are given in the post. Read on to know about them.
General Health Benefits of Castor oil
There are many Health Benefits of Castor oil, more than one can be imagined. It has been used since ages by the Egyptian Pharaohs and the Chinese to treat and prevent many bodily ailments. If you don't know how to use castor oil for good health, then give it a read.

• Castor oil has been used since ages as a natural laxative. Castor oil Pack for Constipation detoxifies the liver and improve the lymphatic circulation in the body. There is no need to get the Enema After Castor oil, as the oil itself is efficient enough to improve your bowel movements. It is very easy to prepare Castor oil pack at home. You just need few old clothes and a bottle of Castor oil. You can also consume a teaspoon of castor oil once in a day for three days to treat your constipation problems.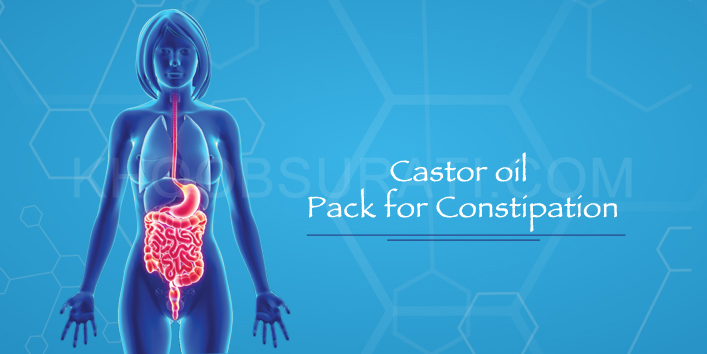 It is also used as a cure for joint pains, muscle pains and inflammation. Castrol Oil is scientifically proven to produce more T-cells in the body, which prevent tumours. You can rely on Castor oil to boost your immune system naturally. It actually increases the white blood cells count in your blood.
People who have an excessive number of warts and moles on their body can use Castor oil topically to get them vanished in a matter of few months.
Due to its excellent anti-bacterial properties, Castor oil is used to combat mild infections in the body.
Skin Benefits of Castor oil
There are not one but many beauty benefits of Castor oil. It is a boon for dry skin. Check the beauty uses of Castor Oil given below that support this fact.

It can be used as a natural and chemical-free moisturizer for treating dry patch on the skin.
Apart from this, it is also used to treat bacterial, fungal and yeast infections. The Ricinoleic acid in Castor oil fights back the acne-causing bacteria and prevents acne and pimples.
Castor oil is also said to fight ageing as it promotes the production of collagen and elastin.
The Omega-3 fatty acids in the Castor Oil helps in reducing the acne scars and blemishes.
You can also use Castor Oil as a lip oil for your chapped lips. It can be used as an excellent remedy for cracked heels as well.
Castor Oil can be rubbed on the post-pregnancy stretch marks to fade them gradually. It is very simple to use Castor oil for Stretch Marks. Just massage the lukewarm oil on the affected area.
Hair Benefits of Castor oil
Castor oil is a one-stop remedy to get the mane of your dreams. Rubbing a spoonful of Castor oil on your scalp can be more magical than you've imagined. Castor oil benefits for hair are given below in the post. Check the benefits of Castor oil for your hair given below.

Castor Oil is known for promoting hair growth. You can mix it with coconut oil and massage it into your scalp to boost the hair growth.
You can use this magical oil to boost the growth of your eyelashes and eyebrow. Rub the oil on your lashes and brows with a light hand to stimulate the hair growth.
Problems like dry scalp and dandruff can be eliminated with the help of Castor oil. It can also be used to treat itchy scalp and bald patches. When used regularly, it inhibits the growth of microorganisms in the scalp which are responsible for dandruff and itchy scalp.
Burdock root and Castor oils India: Castor oil pack for inflammation of the scalp and boosting the hair growth can be prepared with the help of Burdock Roots. The Burdock roots are easily found in the market.
The vitamin E in the Castor Oil Hair Mask nourishes your hair strand from within. Use Castor oil weekly as a deep conditioning treatment for your hair.
Use Castor Oil for eyebrow dandruff. Massage a few drops of Castor Oil in your brows before going to bed. See the results in just one week.
In addition to this, Castor oil is also known to improve the colour of the hair strands.
Massage your scalp with castor oil for thick hair. When applied regularly, it makes your strands shinier, thicker and healthier.
What Kind of Castor Oil Should I Buy for Hair Growth?
Jamaican Black Castor oil is the best-suited variety of Castor oil for hair growth. Jamaican Black Castor Oil is the purest Castor Oil available. No chemical impurities or additives have been added to it. Plus, the Jamaican Black Castor Oil contains a compound named Ricinoleic acid, which is famous for its anti-fungal and anti-inflammatory properties. This variety of oil is helpful in treating skin conditions like eczema, fungal warts and other infections. Check the Jamaican black castor oil benefits here.

Egyptian pharaohs, Persian and Chinese used Castor oil since time immemorial to lubricate their eyes naturally. You will be surprised to know that Castor oil has something in store for your eyes as well. Here are the benefits of Castor oil for eyes given below:

Castor oil is rich in fatty acids, i.e. Ricinoleic acid. It penetrates deeply into your skin and flushes out the impurities stuck in the pores. It is a venerable cleansing agent for your eyes.
You can massage it around your eyes to diminish the dark circles and flatten up the crow's feet and fine lines.
If your eyes tend to get dry from time to time, then keep a bottle of Castor oil in your handbag. Add one drop to each eye after you wake up or finish a work on the computer. Best time to use Castor oil as an eye drop is just before going to sleep.
Castor oil has been reported to treat cataracts at an early stage. It fixes the cataract without interrupting your vision.
Castor oil for Weight Loss/Management
If you wish to shed some kilos or you've gained a lot of weight post pregnancy, then Castor oil is a double-edged sword for you. Apart from diminishing the stretch marks, Castor oil can be used to lose the post-baby weight as well.

You can have a teaspoon of Castor oil before breakfast. You can add some fruit juice to it to enhance its taste. It will facilitate your bowel movement. Check your weight after doing this for a week. Do not exceed it more than a week.
Castor oil can be massaged directly on the abdomen to burn the excessive fat in the belly region. Use this castor oil belly wrap to shed the belly fat in a month. If you're already working out to lose your love handles, then use Castor oil to prevent the skin sagging and stretch marks.
It, in fact, makes you feel fuller so that you don't munch on a high-calorie snack in between the meals. It will also boost your metabolism.
Castor oil for Breastfeeding Mothers and Babies
Castor oil has something in store for everyone. The doting mothers can use the Castor oil to smoothen their stretch marks. But there's more to this golden oil. However, you must take precautions before taking castor oil during pregnancy. Let's see how Castor oil benefits the breastfeeding mothers and babies.

In India, Castor oil has been used to massage the breasts of a breastfeeding mother. This is done to improve the lactation in the lactating mothers. However, topical castor oil breastfeeding is not supported by the medical experts.
But there has been no scientific evidence to support this utility of Castor oil. So, the doting mothers are prescribed of other laxatives than the Castor oil.
Many users have raised a query 'Can I Use Castor Oil on My Hair While Pregnant?'. Experts don't suggest any internal or topical use of Castor Oil before or after delivery.
Due to the lack of information, the use of Castor oil as a laxative in nursing mothers is not advisable.
But, Castor oil is totally safe for the tiny tots. It can be used to massage the baby's dry skin. It can also provide relief from dry skin and itchiness. Massage a few drops of Castor oil in your baby's skin after giving him a bath.
Castor oil's excellent anti-inflammatory and anti-bacterial properties also help treating the warts and blemishes in babies. Massage lukewarm oil on your little one's body. You will notice your baby's skin becoming smoother and clearer after a few applications.
Massaging Castor oil in your baby's scalp will ensure thick and shiny hair. Remember, don't apply Castor oil to your tiny one's eyes, genitals and lips.
Castor oil can be used to treat Colic in babies. Massage lukewarm Castor oil on your baby's abdomen in a clockwise motion.
Massage Castor oil regularly on your baby's body to cure sore muscles. Babies are in their constant growing phase, due to this, muscle pains are common.
Treat diaper rashes with few drops of Castor oil. The undecylenic acid in the Castor oil soothes the irritation. It also prevents fungal infection in babies.
Apply some Castor oil on the sunburnt skin of your tiny one. Their skin is delicate, and so is more prone to sunburns. It can also be used to treat eczema in infants.
Castor oil Benefits for Men
There is this one problem that bothers every man at a certain age: Receding hairline. Hair loss and receding hairline is the most common problem faced by men these days. But Castor oil has the good news for you, if you're facing the similar problem.

Massage lukewarm Castor oil in your scalp in gentle circular motion. Focus more on your hairline. Cover your head with a shower cap or a scarf and let it be overnight.
Use this castor pack regularly to see the results of Castor Oil in a week.
You can mix Castor oil with other oils and then apply it your hair.
Castor oil improves blood circulation in the hair follicles and boosts its natural growth.
It will prevent future loss of hair strands.
Castor oil for Pain Management
In 1900's Edgar Cayce, the Father of Holistic Medicine suggested that Castor oil can be used to treat joint pain in Arthritis. The unique fatty acid, Ricinoleic acid is responsible for the pain-relieving properties of Castor oil. Here are some ways in which you can use castor oil for joint pain. Prepare the Castor Oil Poultice for Inflammation with the following method.

Soak a cloth in Castor oil and then wrap it around your painful joints or body parts to avail the benefits of castor oil for arthritis.
You can take Castor oil orally with your herbal tea. If you dislike the taste, there are many Castor oil supplements available in the market. But consult your doctor before taking Castor oil orally. Drinking castor oil at night can help you get smoother bowel movements the next morning.
Heat some ginger powder in boiled water. Let the mixture cool down. Add a tablespoon of Castor oil to it. Drink this castor oil mixture twice a day.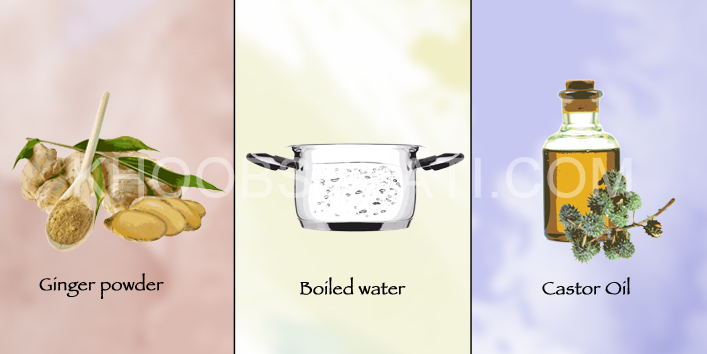 Simply massage lukewarm Castor oil on the affected areas and leave it overnight. The pain will be gone till the morning.
Castor oil for White Teeth
Castor oil can be used for oil pulling for getting rid of the bacteria and dirt from the mouth. But due to its density and difficulty to squish through the mouth, not many people use Castor oil for White Teeth.

Can Castor oil be Heated?
There has been a question in people's mind since quite a long. Can Castor oil be Heated? The answer is NO. Check the bottle. If it is labelled with 'Cold Pressed Castor oil', then heating is not advisable.

Combination of Castor oil with Other Oils
You can use the pure Castor oil alone or make a concoction of Castor oil with any other oil as well. Here are some common combinations of Castor oil with other oils.

Castor oil with Jojoba Oil (Hair Serum)
You can prepare your own DIY hair serum with the help of Castor oil. Take 3 tablespoons of Castor oil and 1 tablespoon of Jojoba Oil or the Argan Oil. Mix the oils well to make a homogenous mixture. Apply this on your hair and massage it for 5 minutes.
Castor oil with Olive Oil (Anti-Ageing Oil)
Mix castor oil and olive oil for face massage, in 1:3 ratio. Massage this mixture into your skin to defy the signs of ageing. Your skin will feel plumper within the first week of application. If you have oil skin, then replace Olive Oil with Jojoba Oil.
Castor oil with Coconut Oil (Dry Skin Castor Oil Treatment)
If you have chronically dry skin, then mix Castor oil with Coconut Oil in 1:1 ratio and massage it gently on your clean face twice a day. You will notice that within one week, your dryness has disappeared.
Castor oil with Sesame Oil (Hand Cream)
Mix Castor oil with Sesame Oil in 1:1 proportion. Transfer it into a handy bottle. Apply it on your hands many times a day to get softer and smoother hands in a week.
Castor oil with Almond Oil (Hair Growth Treatment)
Both Castor oil and Almond Oil are known for their excellent hair benefits. Mix both the oils in equal quantities and massage it into your scalp. Cover your head with a shower cap and wash it the next morning. Do this twice a week for noticeable results.
Side Effects of Castor oil
Every coin has two sides. Similarly, Castor oil has numerous of benefits, but there are some side effects as well. Please note that you shouldn't go overboard while using Castor oil. There are many questions like is castor oil safe to take internally? Here are some common possible side effects of Castor oil.

You shouldn't overdose Castor oil when taken orally. It can cause chronic constipation and even weaken your colon if the consumption is prolonged. Consult a doctor before consuming Castor oil.
Castor oil can sometimes reverse constipation into diarrhoea.
Patch test the Castor oil before applying it directly to your face or hair. It can cause rashes in some people. You might be simply allergic to it.
Muscle cramps are one of the possible side effects of using Castor oil topically. Abdominal pains can also arise while massaging with Castor oil.
If you overdose Castor oil, then it might cause weakness and dizziness.
Prolonged usage of Castor oil can lead to loss of nutrients and water from the body. Castor oil can prevent the digestion of some vital nutrients in the gut.
If you're allergic to Castor oil, it can race your heartbeat. This can be a possible reaction to Castor oil allergy. If such happens, seek medical help immediately.
Breathlessness is another side effect of Castor oil. If you feel difficulty while breathing after Castor oil intake and seek immediate medical intervention. Perform an allergy test before taking Castor oil orally.
How to Know if You're Allergic to Castor oil? Test Castor oil on your forearm. If within 24 hours, no reaction occurs, then you're not allergic to it. But if there is a sign of any redness or itchiness, then wash your hands immediately.
DO NOT use Castor oil directly on your skin or in your eyes before performing an allergy test on yourself. Consult your doctor before using Castor oil to assure yourself.
Castor oil is a traditional medicine which has been used for treating various skin ailments, hair problems as well as health complication. Since ancient time it has been used for beauty enhancement and treating various health complication too. If you want to discover the amazing benefits of castor oil then scroll down to read the article. This will surely help you understand the benefits and use of castor oil to get rid of various problems related to your skin, hair and health.
Castor Oil for Skin
The Castor Oil offers excellent results in treating skin ailments such as scars, dry skin, sunburn and many more. Moreover, it is also used for eradicating infections such as boils, warts, yeast infection, fungal infection and many more.
It works well in promoting the production of elastin and collage which makes your skin look more youthful and helps in delaying the sign of aging.
If you have acne problem, castor oil will prove beneficial remedy for you. It contains Ricinoleic acid which fight well with acne-causing bacteria and give you a flawless clear skin.
You can also use it to remove dry patches and moisturize your skin to get a glowing and smooth texture. Use few drop of castor oil every night to massage your face.
Castor Oil is an effective treatment that offers significant results in treating dry and cracked heel problem. Before going bed apply oil on your heels and cover it with socks. It moisturizes your heel and makes it smooth and soft.
Due to rich amount of omega-3 fatty acid, dermatologist also recommend castor oil to reduce pigmentation. It helps in fading scars and prevent your skin discoloration.
Enhance the beauty of your lips by moisturizing it with castor oil. It is used as a lip balm and helps in curing dry and chapped lips.
Castor Oil for Hair Growth
Castor oil is highly beneficial for promoting the hair growth. Add coconut oil or almond oil with castor oil and use it to massage your hair scalp. It helps boost the hair follicles and encourage hair growth.
May be you will be surprised but castor oil is good for promoting the growth of eyebrows and eyelashes. Before going to sleep take few drops of castor oil and rub it on your lashes and eyebrow with help of your finger. Leave it for half an hour and rinse it off. Repeat this process daily to get best results.
If you troubling with dry scalp, dandruff or scalp infection then castor oil is an appropriate remedy for you. Scalp infection is also responsible for causing various hair problems such as itchy scalp, bald patches, etc. Castor oil comprises anti-bacterial, anti-viral and anti-fungal properties that works well in inhibiting the growth of micro-organism responsible for it.
It contains good amount of Vitamin E which nourishes your dry and brittle hair. Use it on weekly basis to deep condition your hair and remove split ends problem.
Castor Oil For health
It contains laxative which helps in treating constipation problem. Take one teaspoon of cold preserved castor oil in a day for three days and see the results.
         Note:– Never take castor oil without consulting your doctor.
Patient who are having trouble with the acute pain of arthritis can use castor oil. It has anti-inflammatory properties which provides immense relive in joint pain, sore muscles and nerve inflammation.
It is scientifically proven that castor oil has a great tendency to increase the T-cells production in human body. Even American psychic, Edgar Cayce also recommended it for curing mild tumors.
Castor oil is capable of combating the infection and enhancing your immune system by raising the counting of white blood cells in your body. The studies show that the number of white cells was increased when castor oil is applied on the body.
It can be used for eradicating warts and moles. For this, you just need to blend few drop of castor oil in baking soda. Rub this solution on the affected area regularly and see the results.
Due to its undecylecin acid, it play a major role for treating fungal skin infection and ringworm. Apply it on the affected area and leave for whole night for best results.
Castor oil for hands
Make your hands soft and smooth by using Castor Oil. Take 1:1 proportion of sesame oil and castor oil. Mix this mixture and use it as a night cream for hands. It moisturizes your hands and makes it softer.
Get a beautiful and healthy nails by moisturizing it with this miraculous oil. Moreover, it works well in treating the problems of brittle and cracked nails.


Caution
1. Before using castor oil always test it by applying on your wrist. It may be allergic for you skin.
2. Yes, it is an effective oil but it is not suggested to use frequently on your face as it can block your pores and lead to breakout.
3. Pregnant women should never use this oil orally.
4. Always consult your doctor before starting to use castor oil.
Try out the above beneficial usage of castor oil and get a beautiful skin and healthy life. We warmly welcome you to share your views with us.